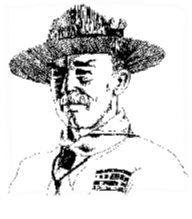 Som fører i Esbjerg 1. kreds, er vi med til at lære børn at "være beredt". Vi arbejder med mærkebogen sammen med spejderne, for at lære dem om naturen, verdenen og lejrliv. Vi har møde hver onsdag, og vi tager på ture og lejre.
Alle voksne over 15 år, der arbejder med børn, skal have indhentet en børneattest hos rigspolitiet..
For at blive fører, er det ikke et krav, at man skal have været igennem førertræning. Der er dog tilbud til alle om uddannelse til fører via Korpsets førertræninger.
En spejder, der bliver15 år kan deltage på Korpsets Rolandtræning, sammen med andre 15 årige fra hele landet. Rolandtræningen strækker sig over 2 weekends og en sommerlejr, og er den første førertræning for de spejdere, der ønsker at blive fører. Spejderne vil på træningen blive undervist og de skal selv afprøve spejderfærdighederne på et niveau, der gør dem i stand til at instruere trop/gruppe spejdere i de samme emner.
Bemærk, at vi er et kristent spejderkorps, som bl.a. bygger på nedenstående værdier!
Spejdere i alle aldre – er værdibaserede mennesker!
Spejderlivet er tiltrækkende for alle aldersklasser. Der etableres mange venskaber, som varer livet ud, både nationalt og internationalt.
I spejderlivet er hverken mobning, drilleri eller jalousi med i rygsækken. Her gælder medmenneskelige regler som hjælpsomhed, forståelse og venskab såvel blandt spejdere som førere. Derfor er spejderbevægelsen aktiv som et vigtigt supplement til øvrige fritidstilbud.
I Danske Baptisters Spejderkorps baserer vi spejderarbejdet på et kristent værdisæt. Læs meget mere om det på Forældresiderne på korpsets hjemmeside:www.dbs.dk.
Andre har også opdaget at spejdere er værdifulde personer: Mange spejdere har oplevet, at ansøgninger til job og uddannelse bliver taget godt i mod, når man nævner, at man er (eller har været) spejder.
Synes du at udfordringen, som fører i Danske Baptisters Spejderkorps – Esbjerg 1. kreds, er noget for dig, så kig ind i spejder- og menighedshuset Nøglen på mandage mellem kl. 16:30 – 18:00, og hør mere om de krav og forventninger, vi har til førere i Esbjerg 1. kreds.
Førerne er:
FamilieSpejd: Esther og Frank Korsbro
Flokken: Ditte Lykke, Sixten Ove, Jakob Hansen og Christina Friis
---